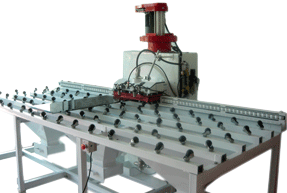 Model : GS
Size :2500x1500x1650mm.
Properties :
It is controlled by micro computer.
There is sensor for detect work pieces to indicate whether there is a work piece in the system.
There is sand quantity detection system to check whether there is sufficient amount of sand used in system or not.
It has foot switch that work via DC system according to security demands and comfortable used.
Blasting process is selectable to automatic or manual by foot switch.
It saves electricity, which results in low cost.
There is preventing damage of electrical equipment.
Special accessory for prevent electrical shock.

Suitable for blasting glass edge in a manufacturing process of solar cell.